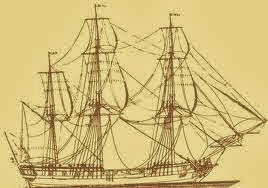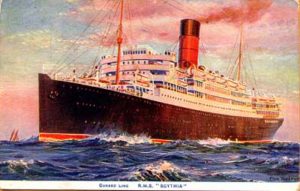 When any of our ancestor relatives immigrated to the United States, they came by ship.  I cannot find any relative who was born in an adjacent country and entered by land although some may have briefly stopped after their ship voyage.  So ships and watercraft played an important part of their travels, history, and backgrounds.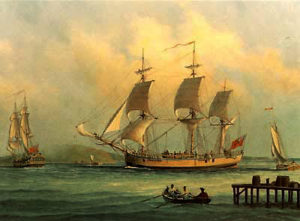 They came in ships of various sizes and configurations, embarked and disembarked at various ports,  and at times boarded flatboats, canal boats, or steamships to complete the voyage.  Before boarding ships to America Most had to travel to the ports of embarkation either by walking or riding on roads or more often on canal and small boats.  When arriving in the United States many had to take boats on the Ohio or Mississippi to reach destinations.
Stories of relatives immigrating to new countries usually include traveling by some form of boat or water craft as part of their history.

Mississippi flatboat. Leurig Library.
Leurig family immigration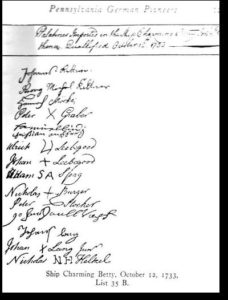 The earliest verified ship record for our ancestors that I have is the Charming Betty manifest arriving in Philadelphia October 9, 1733 and being cleared to disembark passengers October 12, 1773.  Among the 64 passengers was the Johannes KETNER family, our direct ancestor.   However, he was not the first to immigrate and come by ship.
Johannes and George Ketner (Kettner) are the first two names on this 1733 document.  Also shows they could write.
Some of our ancestors probably were already in America.  I am verifying information of migration as early as 1660.  This story will be updated later as more information is available