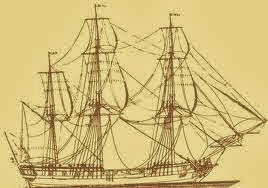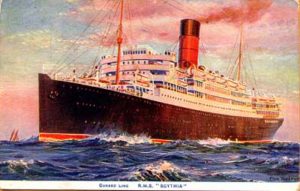 When any of our ancestor relatives immigrated to the United States, they came by ship.  I cannot find any relative who was born in an adjacent country and entered by land although some may have briefly stopped after their ship voyage.  So ships and watercraft played an important part of their travels, history, and backgrounds.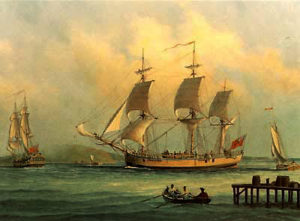 They came in ships of various sizes and configurations, embarked and disembarked at various ports,  and at times boarded flatboats, canal boats, or steamships to complete the voyage.  Before boarding ships to America Most had to travel to the ports of embarkation either by walking or riding on roads or more often on canal and small boats.  When arriving in the United States many had to take boats on the Ohio or Mississippi to reach destinations.
Stories of relatives immigrating to new countries usually include traveling by some form of boat or water craft as part of their history.

Mississippi flatboat. Leurig Library.
Leurig family immigration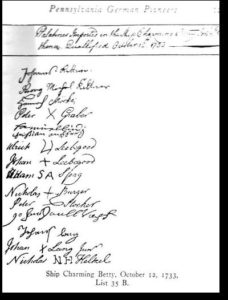 The earliest verified ship record for our ancestors that I have is the Charming Betty manifest arriving in Philadelphia October 9, 1733 and being cleared to disembark passengers October 12, 1773.  Among the 64 passengers was the Johannes KETNER family, our direct ancestor.   However, he was not the first to immigrate and come by ship.
Johannes and George Ketner (Kettner) are the first two names on this 1733 document.  Also shows they could write.
Some of our ancestors probably were already in America.  I am verifying information of migration as early as 1660.  This story will be updated later as more information is available
The first from Germany probably is Sebastian ROYER who came either in 1818 on the Delaware or in 1728, or on both dates if he returned to Germany.  Records are confusing so more on the Sebastian riddle in future posts.
Another early German arrival was the Johannes MULLER family arrived in 1727. Eleven more direct ancestor families came between 1718 to 1739.  These include BOECKEL, BURKHART, BROSSMAN, CONRAD, and others to be described in upcoming posts.
The last large wave of immigrants from Germany included STEIN, SCHIERMEIER, KNICKMEIER, LEURIG, AND SCHMALZ families arriving between 1845 and 1870. The ship Bessel is a good example.  New Orleans was the usual destination before a long journey by flatboat or steamship to Saint Louis.  The Ship Georg was the last immigrant ship to enter New Orleans due to Civil War blockade.
Larger images of the three are in the Leurig Library at https://goo.gl/UziQew
https://goo.gl/6f2cUF
https://goo.gl/BFqVJi
Immigrants from England probably were the first in the Leurig family ancestors to arrive in America.  Published genealogies and records state immigration from England to Virginia occurred before 1660.  Other families from England and Ireland arrived in the late 1600's to 1800.  These families included  CHILTON, HUNTER, BLACKBURN, and LEMOND relatives who were born overseas and died in America.
Each immigrant has a story to be told.

The Leurig family genealogy does not have any direct relatives arriving after 1861 so their stories are more than 150 years in the past.

Although a long time ago, we will attempt to uncover and share their ship and immigration adventures.
FYE  family immigration
Members of the FYE, NORPELL, HOGAN, ROETH, HENDERSON, and RYAN families arrived in the 1800's. Fye and Norpell entered through New York harbor.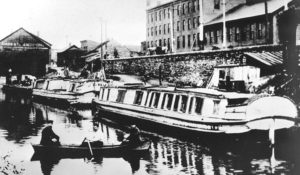 After a short stay in New York and New Jersey they traveled the last leg of the trip by canal boat on the Ohio and Erie Canal to Newark, Ohio.
William Hogan left his ship when docked in Canada and came to Marion, Ohio. Ryan family probably arrived in New York or Boston depending on the immigration year but details are not yet known.
Roeth family in Springfield, Ohio, record Germany as place of birth. I do not have immigration information although the best chance is New York.  Henderson family was in Kentucky before moving to Springfield, Ohio, so they could have come overland or by river.  There are Henderson German and Irish ancestors born overseas and immigrated. Their port of arrival could be any port and needs more research.
A large amount of research remains to be done for the immigration of all Fye direct relatives.  Perhaps others have done so and can share their findings.  As new information is found it will be shared on this site.
KANE family immigration
As silversmiths, the KANE and BURNS family immigrated to the major silverware producing town of Meriden, Connecticut.  Both families were residents in the 1880's.  It is probable they entered through Boston or New York, but no research has been done on their immigration.
Gladys ANDRADE immigrated from Jamaica in 1920 as Gladys Issacs with her husband and children (half brothers to Gladys Patricia Kane).  Both families had lived in Jamaica for a few generations, probably tracing to the Portugal Jews leaving for Jamaica sometime between 1490- 1655. This early migration is background as Gladys Andrade Issacs retained her British Citizenship while in the United States. She later divorced and married Howard Edward Kane.  They traveled and worked abroad for some time in New Zealand and Australia before having a child, Gladys Patricia Kane, in London, 1931.

The last "immigrant" in my charts is Gladys Patricia Kane although technically not an immigrant as she was born in England and a citizen through her father.  However, the first time she was in the United States was on the ship Scythia from Liverpool to New York in 1932 when less than one year old.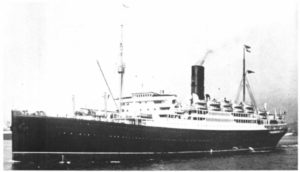 Immigrant stories are the current focus as the interest is in how they traveled as part of their personal story.
But there are other stories of the ships themselves.  The size, when built, voyages, number of passengers and cargo, and the various uses are side stories to also enjoy.  While the ships changed, became more efficient, and travel times reduced, the common theme is our family immigrants came to America by ship.